MacOS Plus

Member

Registered: 2015-12-09

Posts: 110
Help with IDing/settings/software for PCI Powermac CPU modules
Last week I was sorting through some of my old Mac parts and found a box I'd sorta forgotten about.  It contained a whole pile of CPU cards for Beige-generation PCI Powermacs.  I remember now I bought them in a bulk lot many years ago but never needed many of them.  Now that I'm busy trying to put my older Powermacs back into service and good uses, I decided it was time to finally go through all the CPU cards to identify them, test them, and trace the software I didn't already have before it's permanently unavailable.
  I went about the testing using a Power Computing Power Center 150 as the host.  All of the cards are either G3 type or 604e.  Out of all the cards tested there were only three I couldn't get running for one reason or another.  They are as follows as far as I can identify them:
1. NewerTech MAXpowr 604e(?) 225MHz
2. XLR8 MACh Speed 604e 225MHz
3. Mactell PowerJolt(?) G3 250MHz (from similar photos online I believe this is the make/model)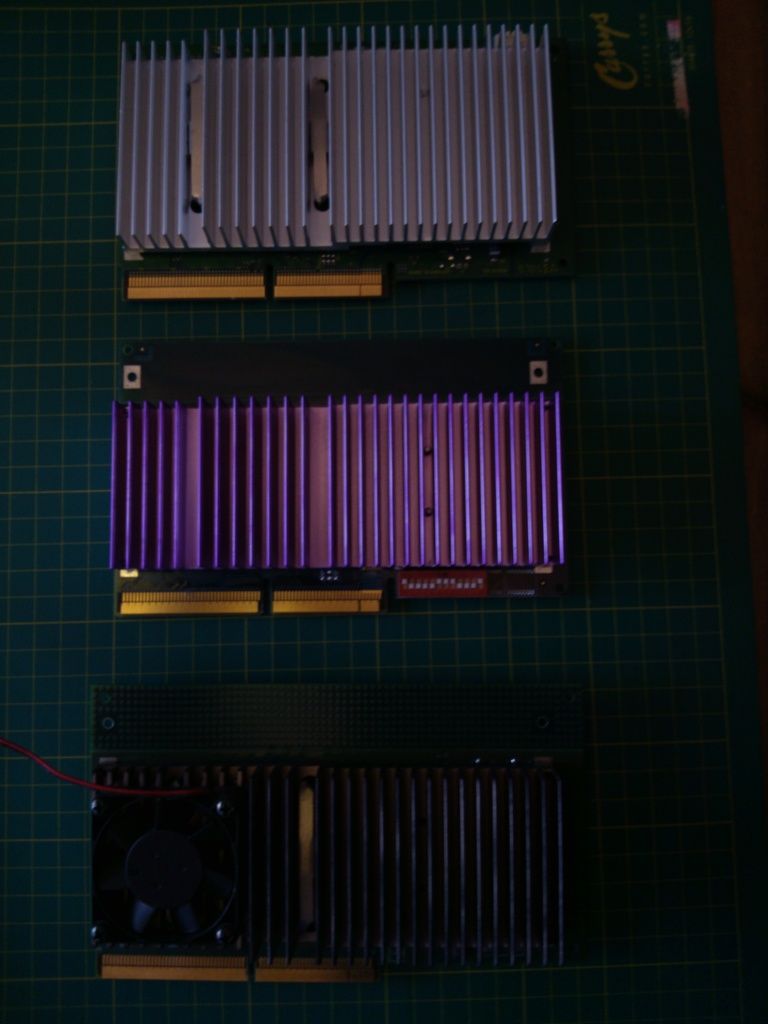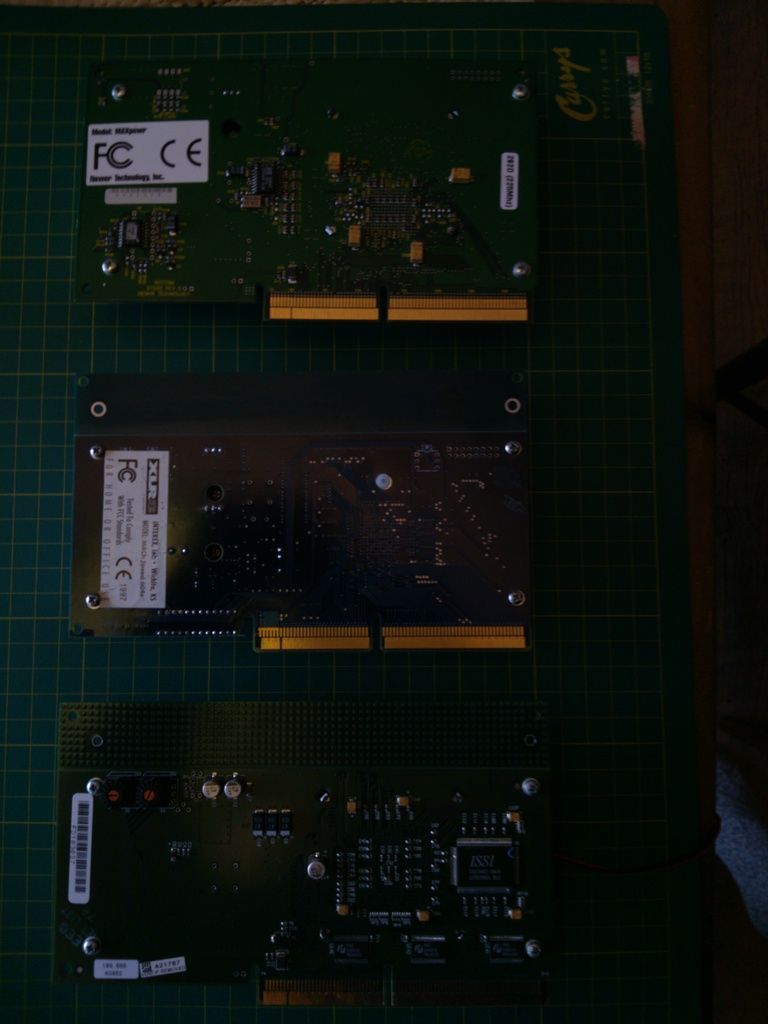 1. I don't have reference material for this NewerTech model.  The jumper settings don't seem to have any effect, nor does it matter if I set them in the two standard positions from the manual for the later G3 versions.  I don't know if any software was available for it.
2. While I was able to locate and download a software CD image for the later G3 versions, the 604e XLR8 version I don't have jumper settings for nor any software it may have come with.
3.  The Mactell (pretty sure) card is fairly distinctive because it features rotary switches instead of DIP switches.  I have another virtually identical card with a completely different heatsink that I HAVE been able to figure out and get working.  The MACh Speed software was still installed at the time and was able to read its speed setting.  I don't have any Mactell software or reference material.  The closure statement from that company is the only remnant page I could find in the Wayback Machine online.  (Thanks, Apple, for completely ruining them - that was real classy.)
  It is entirely possible that these three cards are defective but I would like to test them fully before concluding that and junking them.  If any of you can help with information or software for these cards it would be greatly appreciated!
Last edited by MacOS Plus (2017-02-17 05:02:38)
MacOS Plus

Member

Registered: 2015-12-09

Posts: 110
Re: Help with IDing/settings/software for PCI Powermac CPU modules
I've now managed to locate a reference for the XLR8 604e DIP switch settings:
http://www.macoteau.com/maco/macolife/a … _Speed.pdf
If someone can come up with the English version of this file, please post it.
  At this point I'm suspicious that the voltage regulators on this module have failed.  Switch settings that should work are showing no signs of life, there's an LED on the module that blinks rather than coming on steady, and the output pins of the two voltage regulators are reading near zero volts.  From what I've read, the 604e chip requires 3.3 volts and 2.5 volts for operation.  The two regulators have 5 volts arriving at the input pins.  The two regulators are MC33269T and LT1084CT, both with adjustable output voltage.  Am I to assume they have both failed if the input voltage is present but no output, or is it related to the circuitry that controls the adjustment signal?  The machine will power on with no chime, and if I let it sit on for a bit the heatsink gets quite hot in the area of the regulators.
jt

Member

From: Bermuda Triangle, NC USA

Registered: 2014-05-21

Posts: 1,470
Re: Help with IDing/settings/software for PCI Powermac CPU modules
Can't help, but watching with great interest. Have you tried running the .TXT in the first through babelfish or whatever the translation software of the moment might be? Haven't done anything like that inmore than a decade. Maybe that shiznit works better by now?
I've got a dozen of those things to noodle out myself.
MacOS Plus

Member

Registered: 2015-12-09

Posts: 110
Re: Help with IDing/settings/software for PCI Powermac CPU modules
I don't know if the characters will properly copy out of the PDF file.  There's enough plain English there that I get the gist of it though.  The one thing I don't get is why there's no setting indicated for a 4.5x multiplier.  My XLR8 card has a 225MHz chip, without a 4.5x setting you can't set it at native speed on a 50MHz bus.  I figure there is a combination of the switches that would generate 4.5x, but if the voltage regulators actually are defective then I'd never get anywhere trying to decipher it.
MacOS Plus

Member

Registered: 2015-12-09

Posts: 110
Re: Help with IDing/settings/software for PCI Powermac CPU modules
I'm looking to get hold of the replacement voltage regulators I mentioned above so I can see if these are the problem.  Perhaps one of you on this forum who does component-level repairs has them and could sell them to me?  The LT1084CT Adjustable I can find on eBay but the MC33269T Adjustable isn't listed there.  I also need an LT1085CM Adjustable to attempt repair of a Daystar PowerPro 80MHz unit I have which never worked.  (The regulator output is showing about half the proper voltage on that one.)
Please PM if you can help with any of these:
LT1084CT Adjustable
MC33269T Adjustable
LT1085CM Adjustable
(Please note that any of these parts with a dash-and-number suffix in the part number are fixed voltage versions and not correct.)
mcdermd

Member

From: Corvallis, OR

Registered: 2014-05-12

Posts: 1,022
Re: Help with IDing/settings/software for PCI Powermac CPU modules
You should try Digi-Key or Mouser. They should have them.
---
Daily Drivers: 27" iMac 2.8 GHz Quad-Core i7 (Late 2009), 21.5" iMac 2.7GHz Quad-Core i5 (Late 2013), 11" Macbook Air 1.6 GHz i5 (Mid-2011)
See the restored heroes here.
trag

Member

Registered: 2015-01-07

Posts: 16
Re: Help with IDing/settings/software for PCI Powermac CPU modules
Probably way too late, but the PowerCenter may simply not work with those CPU cards.
The PowerCenter is based off the PM7200 (Catalyst) architecture and there's a slight difference in the CPU slot (I have it in my notes, which aren't with me at the moment).   Later upgrade cards were built to work in both Power Surge (X500, X600) slots and Catalyst slots, but earlier CPU cards will not work in the Catalyst slots.   Also, cards from Apple and Umax will not work in the Catalyst slots.
For good CPU card testing (or old testing) you need an Apple X500 or X600, or a Umax  S900 or J700, or a Power Computing PowerTower Pro or a PowerWave.    Note that the PowerTower (no Pro) is a Catalyst machine, but the Pro is a Power Surge machine.
I hope you didn't dispose of those cards, as those were some of the fastest 604e cards.